After a brief hiatus for summer splendor and a very special union of ebb + flow organizers Gavin and Suzie Stephenson in August, the ebb + flow crew was back at it for their Sunset Debauchery boat cruise on October 4. There was much anticipation surrounding the event as bad weather had put a damper on the prior few days leading up to the event on potential hurricane watch, as well as the last boat cruise ebb + flow hosted back in May. Coupled with an incredible lineup of Atish, Hoj and special guest Öona Dahl, there was a lot on people's minds in anticipation of this past Sunday afternoon. But we were ready.

With our luck, the day broke with an incredible bout of great weather, warm sun and a light breeze: perfect weather for sailing into the sunset with beautiful music and an amazing crowd. As party patrons filed in line at Circle Line Cruises on the West Side, the ebb + flow organizers were eagerly awaiting the gorgeous afternoon cruise that lay ahead.
The boat filled up with great friends, family and friends that have become family. Several patrons were on a boat cruise for the first time, eagerly awaiting the fresh, melodic beats from the artist lineup. Whatever their story, there was truly a reason that each and every one of us made the boat on a gorgeous Sunday afternoon. Decked out in party affair, patrons took the the outer decks to enjoy the last hours of sunlight as Gavin and Iman began their set and easing into the afternoon. Gavin and Iman delivered an incredible warm up to All Day I Dream labelmate Öona Dahl, hot off her most recent All Day I Dream NYC performance at the Brooklyn Mirage; whose ethereal blend of radiant melodic techno set the tone for the rest of the evening.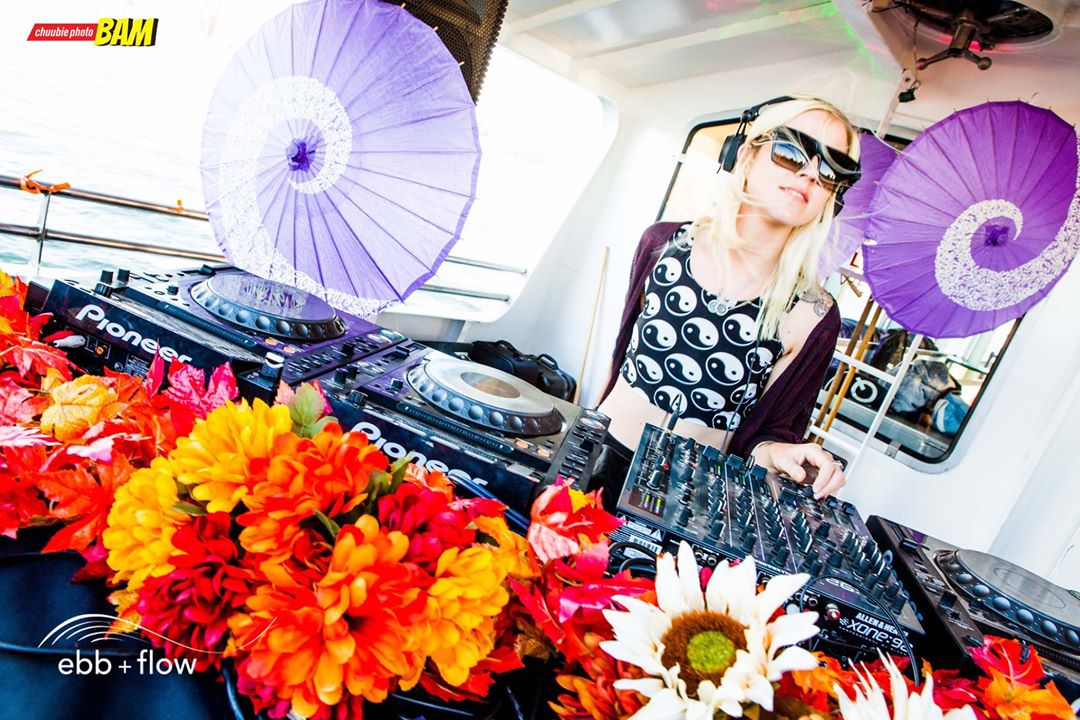 As the sun dipped slightly to reveal hues of oranges, pinks and purples, Atish warmed everyone's hearts with his special blend of deeply emotive electronic vibes with some thumping basslines. Atish's music reflects very much his personality-- even before he played he was walking around the boat with a smile beaming across his face, happy to be there and to share in this experience with the rest of the patrons on the cruise. Atish was deep into his set when the boat sailed near Dumbo Heights' boardwalk, which much to our surprise and delight was filled with tons of people. As we sailed nearly 500 yards away from passerby, boat patrons were lost in the music; hands waving above their heads and reveling in the perfection of the evening.

Onlookers from boardwalk instantaneously burst out in applause and recognition as they began dancing to Atish's set, a deliciously techno-infused mastery. As we neared the Brooklyn Bridge, the sky erupted in spontaneous fireworks, much to everyone's surprise-- and pure joy melted across everyone's face and hearts. Atish finished a monstrous set and Hoj took over as the fireworks dissipated into the night and everyone was ready to be transported to another realm by the last artist of the night.

Hoj's opulence as a DJ shown through and capped off the night in absolute splendor. His deeply moving blend of tribal beats, steamy basslines, shining synths and mixing perfection rang out onto the water and left people buzzing for more. Hoj, like Atish and Oona, was reveling in the moments before his set on the boat with fellow patrons. There was an indescribable energy that took the boat by storm; a perfect combination of beautiful people, incredible weather and a thankfulness for living in the moment with others.

One party patron put it perfectly:

"It has taken me a couple of days to fully process all the magic that took place on Sunday! I have had a wonderful summer of doing alllll the things, however I have to say this was hands down the most incredible, inspiring, memorable experience to date!! Getting to see one of my favorite DJ's out on the water circling this breathtaking city, surrounded by so many absolutely beautiful souls, sunshine, and amazing beats was one of the highlights of my life. Thank you from the bottom of my heart to everyone who worked so hard to make this event possible!!! I am bubbling over with glee and gratitude, the smile has not left my face"

Thank you to everyone who made this event truly special. From the incredible artist lineup to the most amazing patrons to the entire ebb +flow crew, the Sunset Debauchery Cruise is one for the books. Be sure to make ebb + flow's next adventure at Good Room with Desert Hearts innovator Mikey Lion and Desert Hearts incredibly talented beauty Tara Brooks coupled with a live set from none other than Justin Marchacos. Until next time, friends! Love OutLoud...

 

Hannah Gerry, ebb + flow member

Hannah works in media and marketing as the Director of Strategic partnerships and is the Editor-in-Chief of Verge Campus Media. Always in search of ethereal beats and good vibes, she can be found blogging on all things music, hanging with her boyfriend, Ryan, and dancing all over Brooklyn and Boston.